The FleshJack contains an interchangeable masturbation sleeve which is encased in a container that resembles a large flashlight, allowing for simple and discreet storage. The masturbation sleeve portion is made from a patented material called Real Feel Superskin, which is famous for its ability to replicate the sensation of penetrative sex through various orifices such as the mouth or anus. The sleeves themselves come in a variety of inner textures to enhance your sexual experience. #1 Selling Top of the line Gay Male Masterbation Device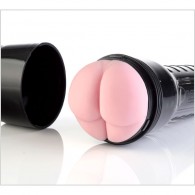 Perfectly replicated, the anus orifice is as close to the real thing as it comes.
Top 5 Reasons to Own a Fleshjack™:
1. You're in control.
Whenever you want, however you like, the Fleshjack sexual gratification alternative is there to fulfill your fantasies and satisfy your desires.
2. Nothing is closer to the real thing.
Our soft, pliable, non-vibrating SuperSkin™ masturbation sleeve has been designed to provide the most realistic anal and oral simulation known to man.
3. Improve stamina & performance.
Whether you're a real Casanova or just a rookie to the game, there is always room for improvement. Test your skills, practice new techniques, and test how long you can last in one of our specially designed sleeves, created for maximum sensation.
4. Practice safe sex.
The Fleshjack was created in part, to address the risks associated with promiscuity, the spread of STDs (sexually transmitted diseases), and the rise in predatory felonies. Whether you're having trouble finding a safe partner or waiting for the right one to come along, the Fleshjack offers a a safe and satisfying means for expressing your sexuality.
5. Lifetime of pleasure.
With proper use and care, the Fleshjack will last you a lifetime. If only it were that easy with real sexual partners!
So What Is FleshJack?
FleshJack is a soft, pliable, non-vibrating real feel super skin sleeve, which is made from patented, high-quality material designed to replicate the sensation of penetrative sex. The FleshJack mould insert comes housed in an attractive and sturdy canister that resembles an ordinary flashlight, allowing for simple and discreet storage. It?s easy to use, clean and is 100 percent safe. With proper usage FleshJack has been know to last for a long long long time. FleshJack is not made with latex, plastic and silicone. The size of FleshJack is approximately 10 inches in length and 4 inches in diameter.
FleshJack Details:

Price: Varies On Product Combinations
Support: Full Customer Support
Niche: Sex Toys
Company: Fleshlight
Reviewed By: Smut Gremlins Flesh Jack Smut Slave
Why Should I Buy FleshJack?
Many users of FleshJack have noted that when they have tried attempts to start a new relationship with a man and failed then they have went in search of artificial anus or mouth to enhance their sexual feelings when masturbating. Most have noted the artificial anus they have purchased have made their way into the garbage can, simply for delivering false promises.
FleshJack has received amazing reviews due to users stated they achieve an almost indescribably effect when using FleshJack for masturbation. People also have noted that it takes time to enjoy properly but once mastered the technique the effects are overwhelming.

>>> GET YOUR FleshJack TODAY <<<

The biggest difference between the FleshJack and all other masturbation toys, is its incredibly realistic feel, attention to quality, and ease of use. The FleshJack is a high-quality product which is made in the USA, and, with proper care, will give you a lifetime of enjoyment.

Gremlin Tries the Classic FleshJack Ass

The folks over at fleshlight have assured me that this product is almost exactly the same as a guys ass (Close to the real thing that I ever felt). So if your up for a mind blowing fleshjack ass fucking session, here is Smut Gremlins Classic Jackass Fleshjack Review

The fleshjack is a great little ass that just begs to be fucked. And like any ass it seems a little tight as first but once you lube it up (You get a free bottle of lubricant with your order) and get the right stroke you'll feel it squeezing your whole cock demanding attention and your cum

From the first time I saw this on the fleshjack site I knew i wanted to fuck it, its such a cute little SuperSkin butt and looks so inviting so when it arrived I was so excited.

The Classic Jackass Fleshjack is super tight, im talking about the width of a finger here. Without boasting I have been told I have a pretty big cock and it even managed to fit me in, so I'd say every guy should be able to fuck this thing without a problem as long as you use plenty of lube. I also tried the All-American Jack but have t confess that anal is the way to go. Tighter is better!

Slipping the device over my stiff cock , I imediately succeeded in getting the suction right. But if you want to have a bit more pushback as your sliding your penis in, keep the cap tight.. The jackass fleshjack will resist as first, but once you get into the rythmn you'll be begging for more.
If you want a great anal similator or just a way to make your jacking sessions that much better your gonna want a fleshjack straight away. This great male masturbation toy can take a hard pounding or a gentle fuck session, either way its gonna milk your cum right out!

Click here for a free video of the Fleshjack Ass and Mouth
(opens in a new window)